kwikwai k1-092 : THE BRIDGE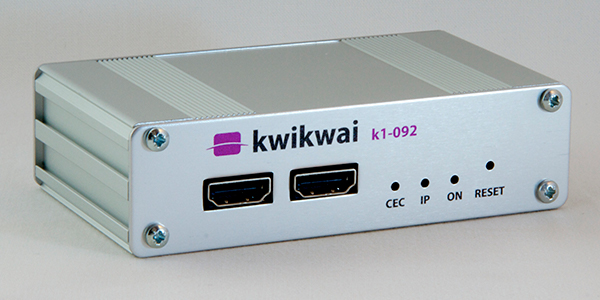 Along with any external controller (home automation system, HTPC, …), the k1-092 model is deployed as a bridge in order to control HDMI devices by participating in the HDMI-CEC exchanges.
The k1-092 bridge is the element to add to a media center in order to switch on/off the TV or select its source.
THIS MODEL IS NO MORE AVAILABLE AND IS REPLACED WITH THE K110 MODEL.
generic use case
drive HDMI CEC devices
Using kwikwai, your home automation system can control HDMI devices by participating in the HDMI CEC exchanges between them. This can happen over a usb, ethernet or serial connection. Many HDMI CEC capable devices answer to status queries, and are capable to process IR codes sent over CEC. In many cases, kwikwai can advantageously replace traditional control methods such as IR stickers and RS-232 ports.
kwikwai k110 pro : THE TEST TOOL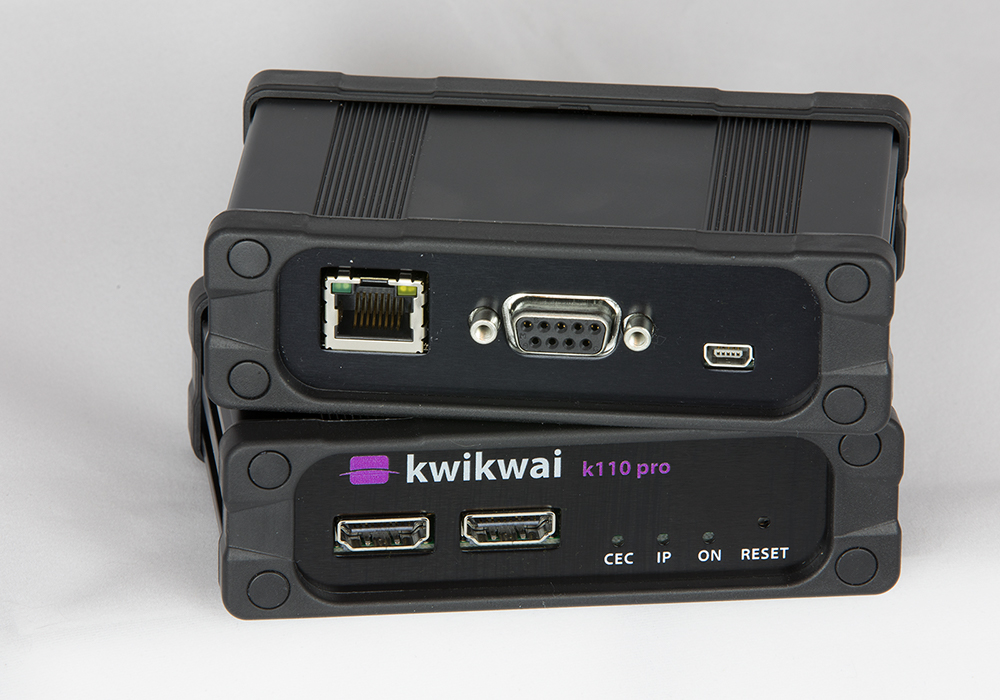 Thanks to its web GUI, the k110 pro is the perfect tool for testing CEC devices capabilities and investigating AV control scenarios.
The web interface displays and decodes CEC, E-EDID as well as the HPD and 5V states.
With kwikwai k110 pro, you can diagnose CEC chatter between devices, decode E-EDID, or fine tune AV control scenarios.
diagnose CEC chatter
Kwikwai's k110 pro web interface displays and decodes CEC messages exchanged between devices on the HDMI bus. It can also send messages.
This allows to discover what messages your devices support, to investigate any proprietary ones, and try control scenarios comfortably. Device manufacturers can of course use kwikwai as an affordable, CEC only HDMI test tool.
decode E-EDID
fine tune AV control scenarios
Kwikwai monitors some HDMI signals (CEC messages or HPD/5V state change) and react by sending a serial or CEC command.
Serial commands can be sent with a minimal interval of time and with a configurable delay.
In order to foster CEC exchange on the bus, kwikwai can simulate the presence of a device by acknoledgng messages.
features
k1-092
k110
k110 pro
machine to machine APIs- Serial, USB or telnet command line interface (CLI)- HTTP JSON API



send/receive CEC & read E-EDID (via m2m APIs)



web UI to access IP configuration, firmware update, and API documentation



AV controller & monitor 5V/HPD status (via m2m APIs)


web UI to monitor and decode CEC, read E-EDID, and help setting up AV controller configurations

Which model do I need ?
Most of our customers start with a k110 pro; it's the most versatile and it can be used as an everyday test tool and/or to develop one's specific application.
All models have the very same machine to machine APIs, so for deployment, the cheaper k110 (or k1-092, depending on the required features) can be used.
HOW TO BUY ?
Orders can be done through our shop or through the contact form for special requests, volume orders, …
Payment is in advance through the shop, paypal or bank transfer.
We ship from Switzerland through Fedex International Priority.
Chinese customers may use Amazing Tech Co., Ltd as a local distributor.
HDMI CEC to telnet, serial and USB
HDMI CEC read and send from command line interface (CLI)
E-EDID display from CLI
HDMI CEC & DDC decoding through web interface (k110 pro)
CLI & HTTP-JSON APIs
automatic AV controller (k110 pro & k110 only)
AV controller settings through web interface (k110 pro)
parameters settings through web interface
compatible with all HDMI CEC messages of HDMI v2.1
independent from any video resolutions and audio formats (AV signal is not modified)
DHCP compliant
power supply through mini-usb port
2 HDMI connectors to support any HDMI topology
installation friendly : small, silent & low power consumption device
future proof : easily and safely upgradable by design in order to benefit from new software version or follow any evolution of the HDMI CEC standard
part number : k110pro / k110 / k1-092
dimension (approx.): (H x W x L) 49 x 68 x 111 mm (1.9 x 2.7 x 4.4 in)
weight (approx.): 230g (0.5 lb)
color : black / silver / silver
connectors and ports: 2x HDMI, 1x RS232 DB9, 1x Ethernet port (RJ-45) and 1x mini USB port (communication and power supply)
3 LEDs status (CEC data, IP, Power)
power consumption (approx.): 0.75 W